Why Is The RMoney Demat Account – Best for Trading?
Post Date : December 2, 2022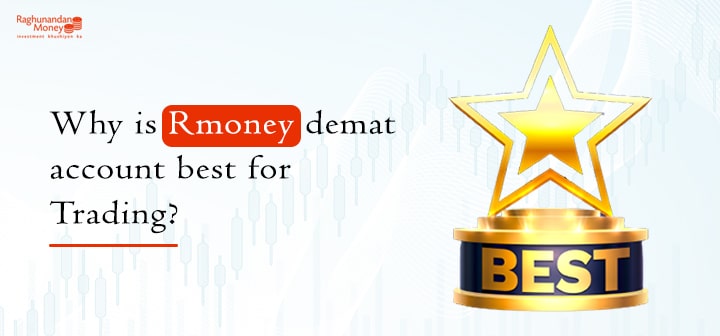 Why Is The RMoney Demat Account – Best for Trading?
Introduction: 
When it comes to selecting a Demat and Trading Account, it is crucial to prioritize features that enhance the speed and efficiency of trading. RMoney's Demat Account distinguishes itself as the optimal choice, offering an array of exceptional features that significantly improve the trading experience.
Key Features of RMoney's Trading Account:
1. Complimentary Annual Maintenance Charges (AMC): 
RMoney provides a distinct advantage by waiving the AMC for the first year of account opening. This benefit allows traders to focus on their investments without the burden of additional fees.
2. 3-in-1 Bank Account with NSDL Payments Bank: 
By integrating a 3-in-1 Bank Account with NSDL Payments Bank, RMoney streamlines the banking process, providing traders with a comprehensive and efficient platform for managing their financial transactions.
3. Customizable Brokerage Plan: 
RMoney understands that each trader has unique requirements. To accommodate these needs, RMoney offers a customizable brokerage plan, empowering traders to tailor their trading experience according to their preferences.
4. Personalized NISM Trained Dealers for Trading Support: 
Traders can avail themselves of the expertise and guidance of NISM Trained Dealers, who offer personalized assistance throughout the trading process. This support ensures that traders make informed decisions and navigate the market with confidence.
5. Advanced Trading Technology with Faster Server Latency Speed: 
RMoney's Trading Account leverages cutting-edge trading technology, providing traders with a competitive edge. The account's faster server latency speed ensures rapid execution of trades and seamless connectivity to the exchange.
6. Access to Global Markets and ETFs Online: 
RMoney enables traders to diversify their investment portfolio by offering access to global markets and Exchange-Traded Funds (ETFs) through a user-friendly online platform. This feature opens up new opportunities for traders to explore and capitalize on international markets.
7. RMoney Quick: Robust Mobile Trading App for Trading On-the-Go: 
RMoney's mobile trading application, RMoney Quick, empowers traders to stay connected and execute trades wherever they are. The app's intuitive interface and comprehensive functionality ensure a seamless trading experience on mobile devices.
8. Real-Time Trade Execution: 
With RMoney's Trading Account, traders can execute trades in real-time, leveraging live trading data. This ensures accurate and up-to-date transaction processing, leading to timely and informed investment decisions.
Conclusion (Why Is The RMoney Demat Account – Best for Trading?) : 
Considering the impressive range of features and benefits offered by RMoney's Demat Account, it is evident that it surpasses other trading accounts in terms of quality and performance. Traders who seek an elevated trading experience characterized by convenience, personalization, and advanced technology can confidently choose RMoney as their preferred trading platform.