Technical Indicators in RMoney Active
Post Date : July 27, 2022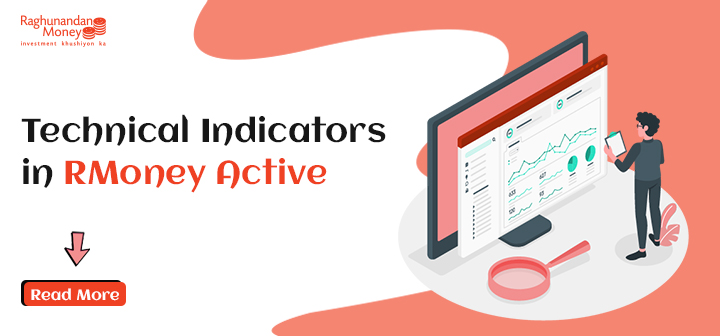 RMoney Active offers multiple technical indicators for you to use while conducting technical research. Some of the technical indicaords you can use are as follows:
Simple Moving Average
Moving average is one of the core indicators in technical analysis. Simple Moving Average (SMA) as the name suggests, is one of the easiest moving averages to construct. It is a result of average price over specific period. The average is referred as a "moving average" as it is plotted bar by bar on a chart and ends up forming a line that is moving along with the chart.
Exponential Moving Average
Similar to SMA, Exponential Moving Average is yet another technical indicator used to track the changes taking place in financial instruments' prices. However, this moving average lays emphasis on the recent data points . This moving average applies more weight to the recent values and is calculated by applying a small percentage of the current value to the previous value.
Time Series Moving Average
A yet another moving average indicator used for technical analysis, Time Series Moving Average is calculated using linear regressi0n techniques. Instead of plotting a straight linear regression line, this indicator plots the lines last point. This moving average is also referred to as "regression oscillator" or "moving linear regression study".
Aroon Oscilator
It is a powerful technical analysis indicator used for analysing an asset's price. The positive value in the indicator represents an upward trend, while the negative values indicate a downward trend. It also helps in detecting changes in the trend (if any). It is affective when used in combination with other indicators and help in developing strategies based on trends.
Supertrend
a supertrend indicator is used to get precise buy and sell signals in a trending market. It is a trend folllowing indicator just like moving average. The indicator is plotted on price and the current trend is derived by its placement with price. The supertrend indicator is a simple indicator and is constructed with the help of price and multiplier. The indicator work beautifully in a trending market both uptrends and downtrends.
Stochastic Oscillator
Stochastic oscillator is a momentum indicator that identifies the location of a stock's closing price in proportion to its closing price range over a specified period of time. The two major takeways of  stochastic indicator include overbought and oversold zone, the bullish and bearish divergence, and the crossovers. The indicator oscillates between zero and hundered and hence is referred to as an oscillator.
Bollinger Bands
Bollinger bands are similar to moving average envelopes. Developed by John Bollinger, they are the volatility bonds that are placed below and above the moving average. The volatility is based on the standard deviation, they are calculated using the standard deviation and change as the volatility increases and decreases. They can be imposed over an actual price or with another indicator. The dynamic nature of this indicator allows it to be used on different securities with standard settings.
Money Flow Index
Money flow index is a unique volume/momentum indicator that combines momentum and volume with an RSI formula. It measures the flow into and out of a security over a specified period of time. Unlike the RSI that incorporates only price, money flow index incorporates volume too. It acts as an oscillator that ranges between 0 and 100. It signals whether the stock is in the overbuying or overselling zone.
MACD
MACD or Moving Average Convergence Divergence is a moving average oscillator that represents an average consensus of value in a selected period and not a composite photo of mass consensus. The shows the potential oversold/overbought phase of market fluctuations. it identify the trends by filtering out the daily price ripples. MACD is a calculation of two moving averages of the underlying price/indicator. The use of two moving averages in the double crossover method, therefore, takes on greater significance and becomes an even more useful technique. It is one of simplest indicator that can be used by traders to bring out the profit from another trader.
Ichimoku Clouds
Ichimoku Clouds is a versatile indicator that defines support and resistance, identifies trend direction, gauges momentum and provides trading signals. It is a group of technical indicators that show the support and resistance levels during intraday trading sessions. The indicator gives relevant information about the price movement of stocks at a glance. If the price is above the cloud then the overall trend is bullish. If the price is below the cloud then the overall trend is bearish. Traders will often use the cloud to find the resistance and support levels.