How Is Tradetron Different From Other Algo Tools?
Post Date : April 9, 2022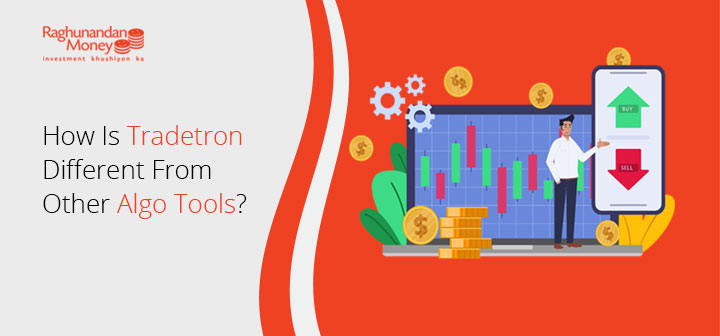 The algo strategy marketplace idea is not unique. There are lot of competing apps that allow you to do that. But as far as strategy creation goes, there are 3 ways apps go about doing it
Write Software Codes: You can write codes in python or VB or some other language (MQL for MT4, AFL for Amibroker, etc, Python for Quantopian and Quantconnect, etc).
Drag and Drop Blocks: Here a user has to drag and drop blocks and set the relation between them to set the conditions for signal generation of the algo.
Click and Choose: Tradetron condition builder comes in this category. There are some tools that are similar to ours having a point and click approach to condition building. But, these tools have limitations on selecting the number of positions attached to those conditions. Tradetron tracks the run time variables which your strategy generates and provides you with the keywords. You can then use them in your conditions to take action.
So in essence, we are unique because ours is possibly the only tool that allows for a Click and chooses condition building with multiple position mapping to those conditions thus allowing us to build for complex algo strategies with ease.
Not only that, but we also allow for a custom python code to be incorporated within your strategy thus having the best of both worlds. Tradetron also goes far beyond signal generation of an algo system. It does the complete trade management by
placing the orders in tranches,
adjusting prices to seek the best entries and exits,
rolling over expired instruments to the next expiry,
and finally closing the strategy.
As if that was not enough, Tradetron will allow you to make your successful strategies a money-making business by allowing others to follow it and take trades in their own accounts for which you can charge them a fixed and a variable profit sharing fee.
For a more detailed comparison check this page