How Can I Modify My Personal Details linked to my Demat Account?
Post Date : August 4, 2022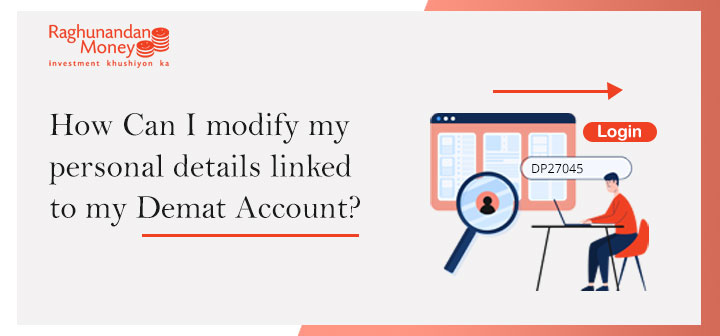 You can now easily modify your Demat Account details with RMoney's New Addition/Modification and Re-Start Module following few simple steps.
Step 1 : Visit our official website www.rmoneyindia.com. Click on the three lines on the top right for the drop down menu.
Step 2 : From the drop-down menu look for and click on Addition/Modification and Re-Start Module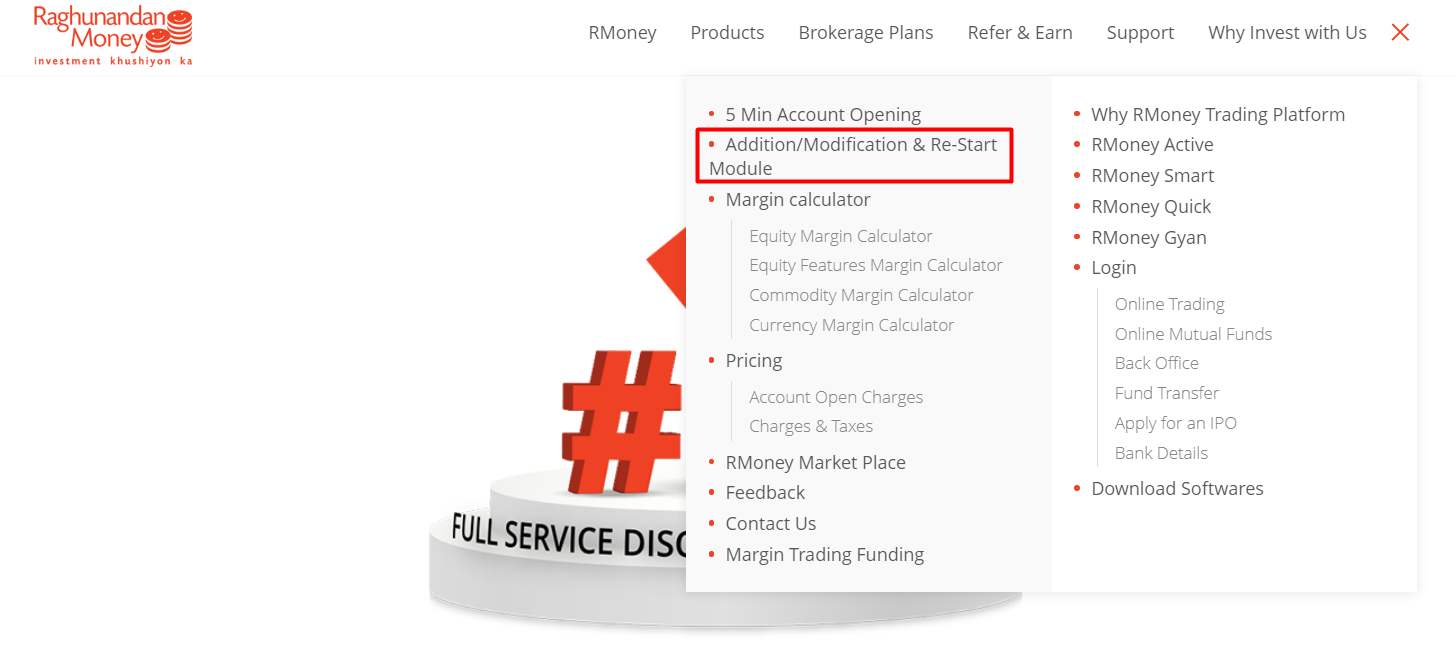 Step 3 : Enter your Client Code on the following page and click Login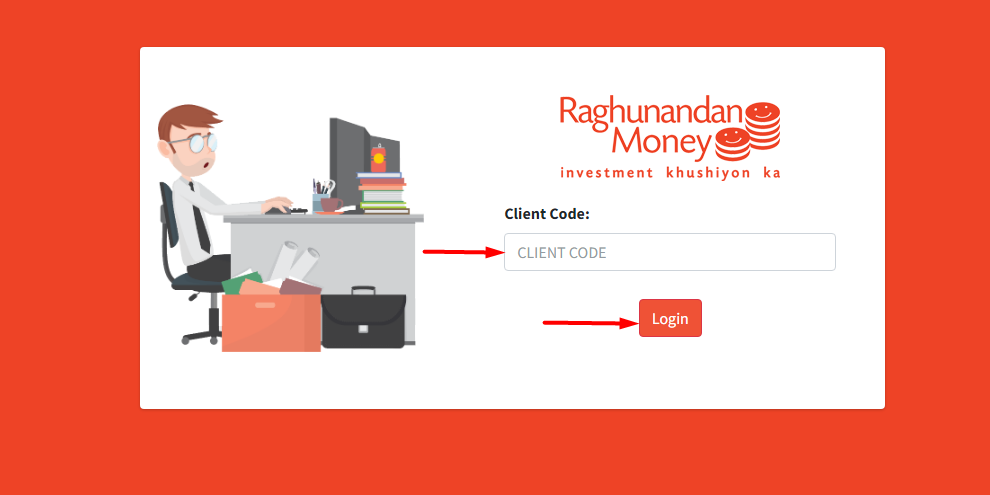 Step 4 : You will recieve an OTP on your registered phone number. Enter the OTP in the following screen for verification.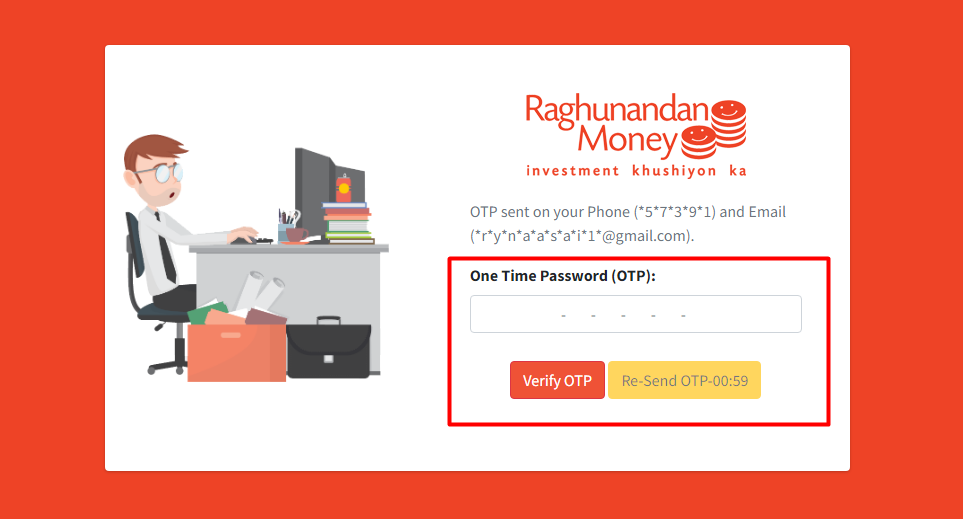 Step 5 : The next screen will show your Account Details shared by you. You will be able to check and modify your Personal, Bank, Segments, Nominees details. You can also apply for Account closure in case you are not satisfied with our products and services.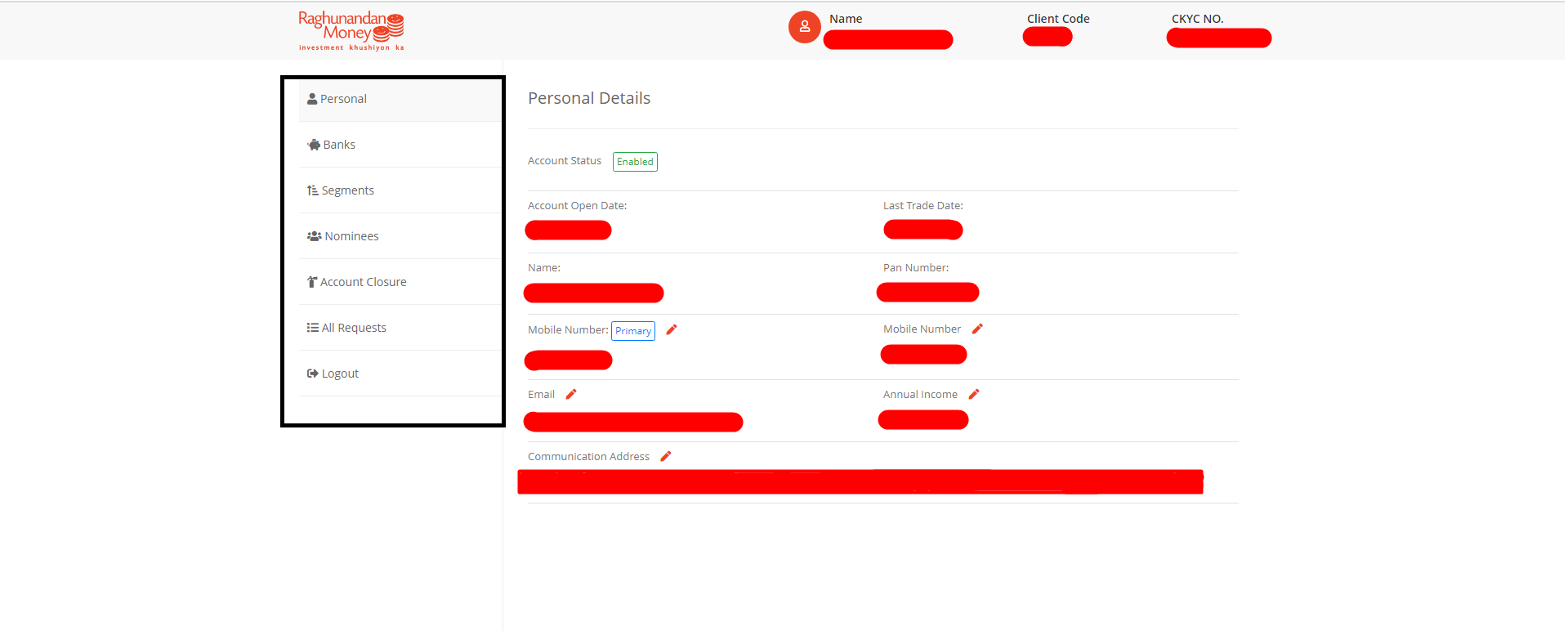 Step 6 : Suppose you wish to update your Primary Mobile Number, click on the pen to next to Mobile Number (Primary) to edit the contact details.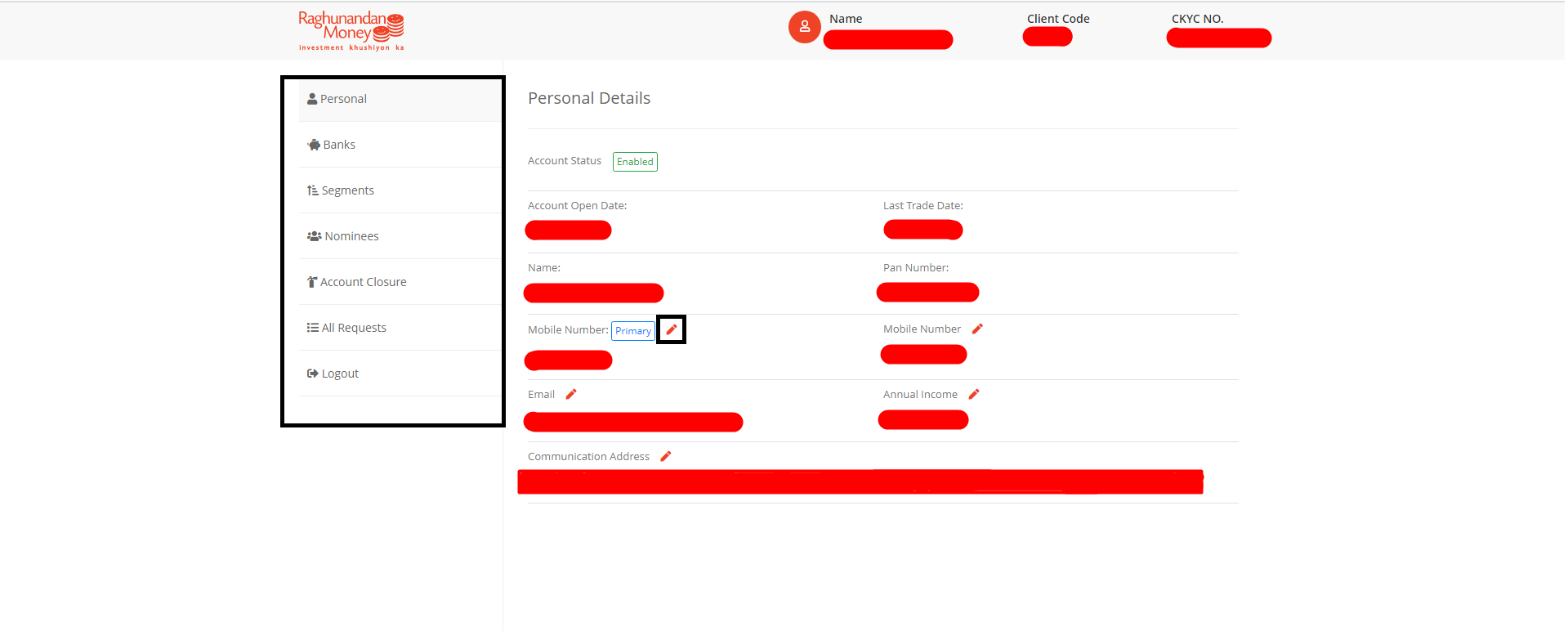 Step 7 : Once you click the pen to edit the details you will receive a pop-up dialogue box which will ask you to opt for email or mobile to receive the OTP. Select your preference and click on "send OTP"

Step 8 : Enter the new mobile number in the dialogue box and press "Continue"

Step 9 : Verify with the OTP sent on your new mobile number

Step 10 : The next window will ask you to view the form and E-Sign the same. Tick the consent box and click on the "E-Sign Form"

Step 11 : Authorize NSDL e-Governance Infrastructure Ltd. (NSDL e-Gov) in the following window to use your Aadhar/Virtual ID details for e-signing of Online KYC documents with Raghunandan Capital Pvt. Ltd. Enter your Aadhar Card Number in the given box and click on Sent OTP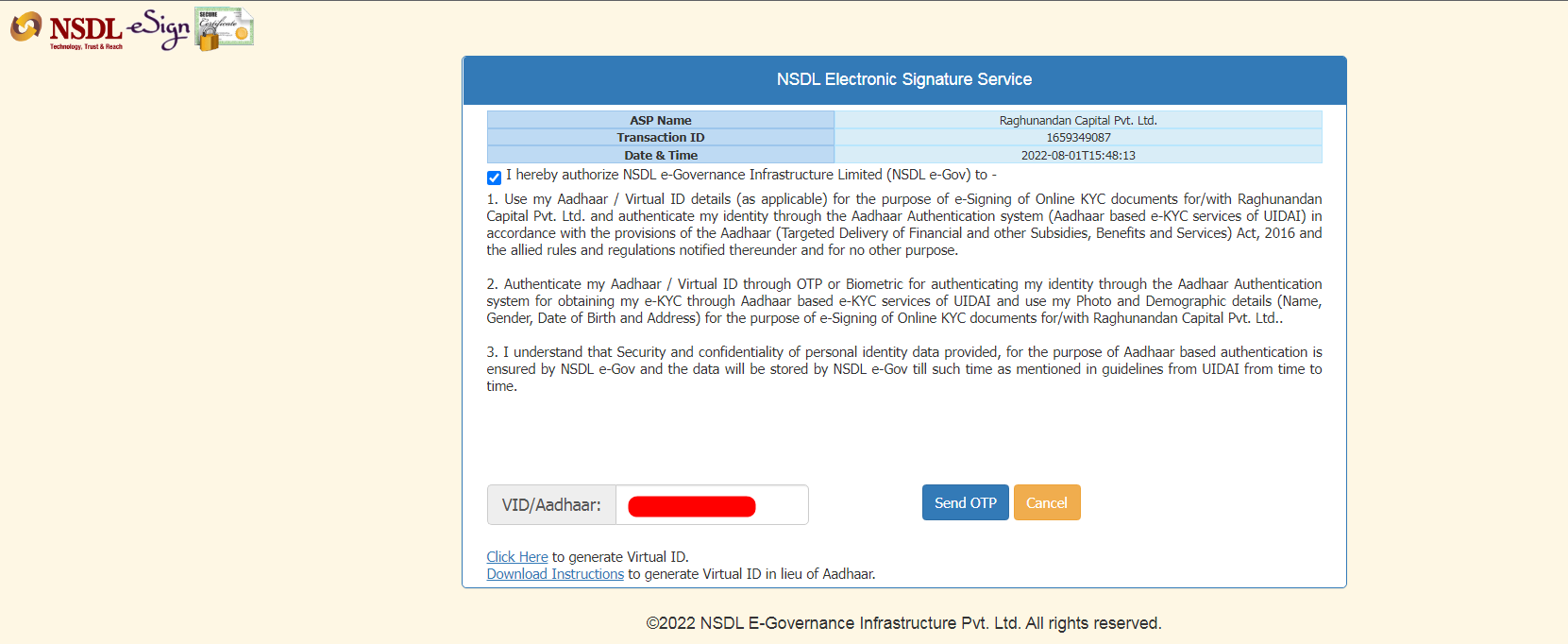 Step 12 : Enter the OTP received on your Aadhar registered mobile number/email id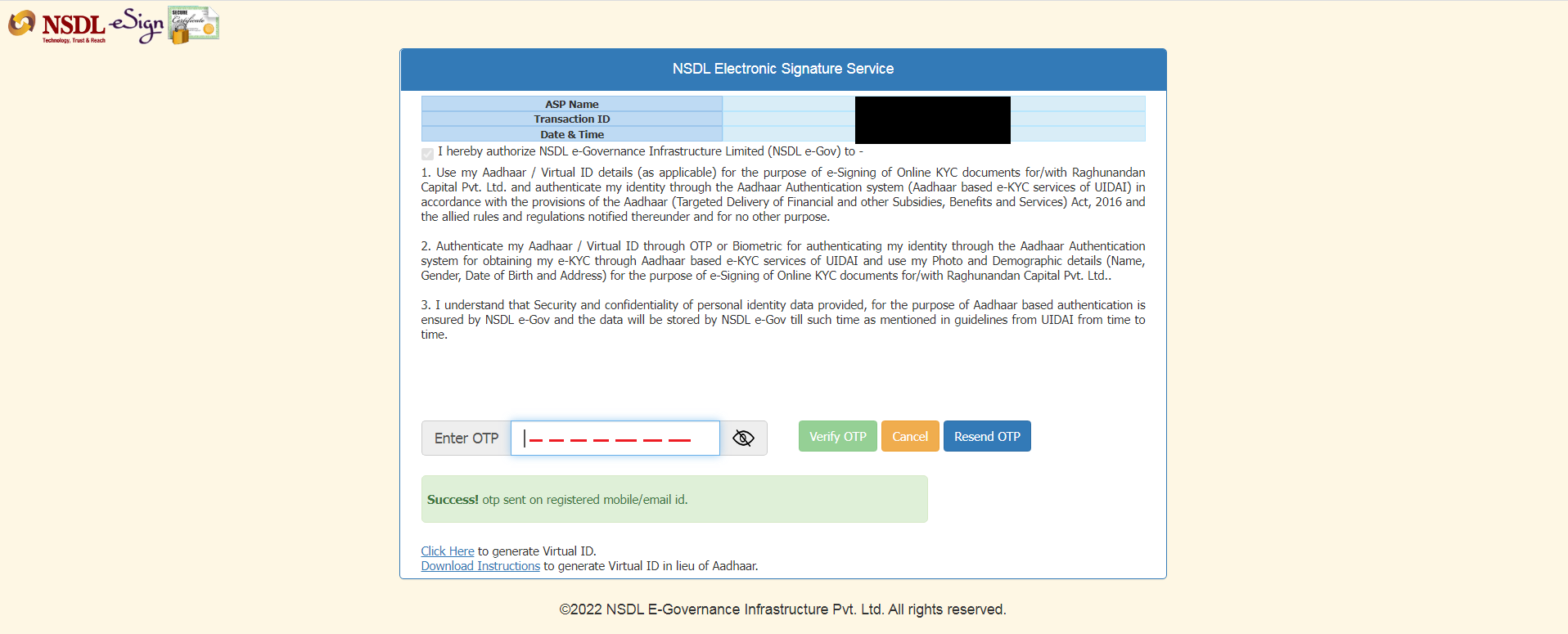 Step 13 : Once your eSign is done your mobile number modification process will be initiated. You will receive an email on your Demat linked email ID once the request is approved.
Step 14 : You can check the status of your request on the portal.

You can similarly change/modify other personal details like your email ID, annual income, and communication address.