Algo Trading Via RMoney's API Bridge
Post Date : August 2, 2022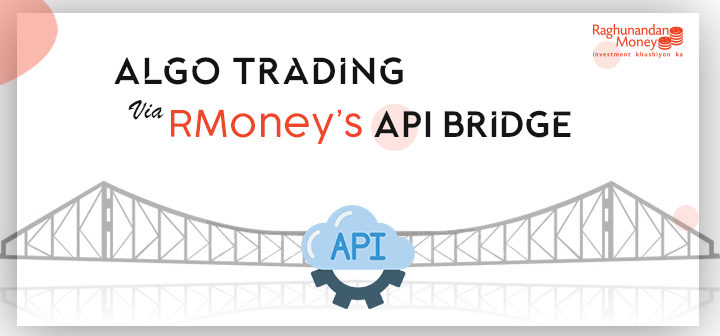 APIs or Application Programming Interfaces are used for algo trading. Algo trading generates automatic signals based on which the trades are executed without any human interferance. A Trading API allows traders to write their own progrmas for trading or using the third-party trading platforms. Trading APIs are suitable for traders who wish to run algorithmic models on their trading systems, catch hold of real-time pricing, and automate their trades.
Traders can excute orders automatically in the real-time, manage user portfolios, stream live market data, and do much more with a trading API.
RMoney's API Bridge is a gateway to algo trading via Excel, TradingView, MT4, Amibroker, and others. The API bridge enables you to trade with custom strategies or to follow the strategies by India's top advisors.
APIBridge enables you to trade with intelligence for strategy management, order management, risk management, and for portfolio management. APIBridge is an application that protects the privacy of your trading strategies.
Here is how an API Bridge helps traders:
Reduce trading cost as much as 0.1% for each order
Trade for multiple-strategies in multiple markets
Trade using charts or screeners for 100s of stocks