In the last couple of years, there is immense development in the digital communications space. These developments are nowhere stopping or slowing down. Instead, it is accelerating with the innovation around artificial intelligence (AI) and harnessing the power of GPU technology. This is assisting advancement in the proliferation of mobile devices more than ever. Furthermore, this is significantly altering the world of trading as well. It is opening new avenues to the new generation of traders across the globe and India is no exception. Mobile trading is now possible within a decade of opening up of online trading to Indian traders. In fact, it needs to intensify in the years to come. No doubt about this.
The need for mobile trading as an inevitable success to online trading in India
According to the National Stock Exchange of India, (NSE), a little over 50 % of trading comes from retail investors. So the investor's awareness is very crucial for the success of such investors. The electronic platform stock exchanges along with regulators like the Securities and Exchange Board of India (SEBI), has taken the capital market to the doorsteps of investors in a transparent manner. Furthermore, this is possible only with the help of cheap mobile devices and penetration of high-speed internet across the nook and corner of the country.
Now not only traders but also investors of all category feel grate empower due to the availability of online trading, especially the mobile trading in India. They are growing comfortable with prompt accessing and timely analyzing information on various trading devices for their investment assets.
Those who can not personally sit in front of the terminal to execute a trade on time, mobile trading has proved to be a priceless gift. Many of us do not have made trading or investing as a full-time profession. So giving the time limitation is it's not possible for them to sit beside terminals all the time. However, now such persons can take trading on their mobile phone and do not miss any trade opportunity.
Even when one trade regularly on the stock market you need a buy or sell and the timing must be right. In this market, opportunity comes and go within no time. So active traders need to keep watch all the time and for this, he or she needs to stick to terminals. But the with the rise of smartphone-based platforms, stock trading is possible at fingertips.
How mobile trading and online trading is working in India
India is among the fastest growing market for both online and mobile-based trading. The fact that mobile trading is comparatively new to the Indian market as compared to the online trading. India launches mobile trading in 2010 while online trading was there since a decade ago from 2000.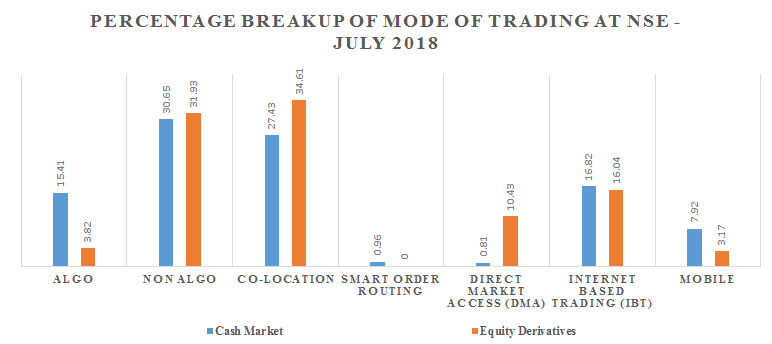 According to the NSE latest data, there are six ways through which trading execution takes place. Among all the six, Internet-based online trading constitutes 16.82% of all ways of trading in the cash market while in derivatives segment the percentage is 16.04% of the total. However, the cash segment total trade contribution through mobile trading is 7.92%. The figure for the derivative segment is 3.17%.
In a country where 50% of trading volume comes from retail clients, trading with mobile can prove competitive edge to this industry. Majority of the retail investors average investing ticket size is low. However, affordable but fast smartphones along with cheap internet plans will help increase trading volume through mobile trading apps.
Indian stock brokers distribute mobile trading apps to their clients for almost free. You only need to install such a trading app on your mobile. Then you need to activate such app with the help of your broker, who provides you with a long in ID and password. You are all set to trade with the help of such app right from your mobile.
How mobile enables stocks trading helping Indian society?
One of the greatest benefits of mobile-based trading is that now stock market becomes available to investors from tier 2, 3 and 4 cities. Even if people who do not have access to a computer, a basic smartphone affords approachability to a trading platform.  Furthermore, it is helping to empower women and housewives. They along with their routine now have additional power to earn through stocks market trading. The day is not far that people will drive maximum traffic on the stock market through their handheld device.
How is mobile trading helping bring change in the online trading experience?
Most of the Indian brokers that provide internet-based trading facility are switching to provide mobile trading facilities as well. They have sensed well that in order to survive in the retail trading segment no option is left then to adopt the technology. Some of the brokers have also come up with their own mobile trading apps. Such apps offer unique features to users. Raghunandan money is one of such broking house of India. The following makes mobile trading platforms at the edge for online trading, thus helping change the face of online trading completely:
1. All trading and investment at one place 
With the mobile trading apps now you can trade in cash segment, future, and options segment, commodities, and currency markets. Some brokers also allow doing investments in mutual funds, NCDs, and bonds through such apps.
2. Less brokerage with mobile app trading
Call-in trades is a traditional mode of trading with serious limitations of timely connectivity. This is largely overcome by mobile apps based trading. It won't be a surprise if such traditional mode of trading will become history and will be available only in literature in near future.
Those brokers who are facilitating mobile apps for trading to retailers are very competitive on brokerages. Mostly they charge aggressive rates on their mobile trading platforms which are in line with charges on web-based platforms. One important aspect for such charges is that it is typically lower than call-in trades charges.
So, the brokers who are still struggling to move to the mobile trading platform to lure retail investors will lose clients to one with feature-rich mobile trading platforms. For most small traders brokerages is a heavy outflow so even a small saving on it is huge for them. Moreover, they won't hesitate to switch to mobile trading platform due to ease of trade on one side and cheap on the other.
3. Ease of transfer of funds 
With mobile banking facility, these trading apps help the seamless transfer of funds. This ensures not to miss any trading opportunity due to funds lacks. Now with your smartphone, you can transfer funds to and fro to your trading accounts in minutes.
4. Other benefits of mobile trading apps 
Such apps enable you with live streaming quotes of scrips in real time. They also provide access to company-specific financial data. Earlier people have to stick to a system or terminal for accessing such pieces of information.
About Author