Launch of Online Mutual Funds – Seamless, Tireless & Priceless way to Invest in Mutual Funds
Whether you are new to investing or you are an investor with just an average exposure or you are a seasoned investor, whatever is your type, Mutual Fund is one such product which is part of everyone's bouquet and if it is not, you are making a mistake. Your portfolio seriously & immediately needs to be restructured. No investment portfolio can be said to be complete without Mutual Funds being an essential part of it.
Every time, when you think of Investing in Mutual Funds, with your experience, you get to think in 4 directions as below:
Which funds to buy, is a tough decision. How do I make it?
Holding Mutual Funds receipts or their statements on mail makes life a little messy. How can I manage this seamlessly?
Most of the family members invest in MFs, may be for Tax Savings. Keeping track of investments of each individual separately makes me hate the whole process.
I tend to get perplexed among the dates of so many running SIPs. If someone can remind me for SIP dates, it becomes easier.
Raghunandan Money brings you a Unique Online Mutual Funds Platform, where you can not just buy or sell Mutual Funds, but keep track of all your investments including your entire family MF investments online at a single place. Your SIPs , SWPs and all other plans of MF are placed in one basket and on top of all this you get one to one advisory of our Mutual Funds Experts on what to buy & what to sell.
Key Features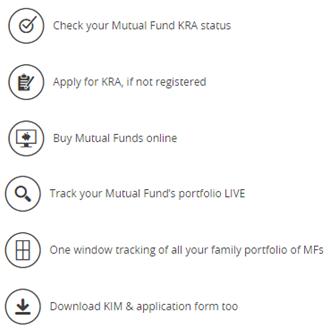 RMoney Online Mutual Funds is a FREE Online Platform which comes to you complimentary with your first investment in MF with us. If you already have any existing MF investments thru Raghunandan Money, we have already mailed you the Online ID & Password required to access the Online Mutual Funds Platform. The most unique feature of our Online MF offering is that you can combine all your family member's Mutual Funds holdings at one place yet they remain in the name of the respective owners only.
So, no more juggling between the heaps of MF receipts & searching statements on your mail. Switch to Online Mutual Funds today.
To know more, do visit http://rmoneyindia.com/online-mutual-funds/ now.