Tata Motors Ltd (TML) was in limelight along with other Tata group companies since 24 October 2016 after Ratan Tata removed Cyrus Mistry as Charmian of the Tata Sons. Soon after that all print and visual media were flooded with the news of Cyrus Mistry and three Group Executive Council (GEC) members of Tata Group being asked to leave. Subsequently, he was also removed from other positions of Tata group companies. It was an unusual event because of over 148 years of its existence, Tata Group had a history of only six Chairman. And Tata group is known for its values, which did not embrace a "hire and fire" policy.
Now, what went wrong with Cyrus, which leads to the intervention of Ratan Tata in the company's affair, after almost 4 years of his retirement. During the time of his removal, it was widely argued that mismanagement under his leadership leads to the poor performance of Tata Motors Ltd in the domestic market. So a historical comparison will help to understand properly what went wrong in actual and how Tata Motors is expected to perform in future.
As I went digging deeper into the reasons for poor performance of a domestic segment of the company, a lot of facts surfaced which suggested otherwise. Yes its true that before starting to writhe this blog I made the hypothesis that mismanagement was solely responsible for poor performance of TML on the domestic front. But as the mystery unfolds leads to some more insight into the company's past performance and also hinted well on its future.
How the blog is planned
Due to the length of the blog, I planned to publish into three parts. Part I is here dealing mostly with the historical performance digging. Part II will focus completely on Tata way of doing business and what the management is planning for its turnaround. And Part III will focus exclusively on the possibility of its turnaround if any. Part II and III will follow soon. The series of the blog will figure out that how management is planning to come out of the grave situation and bring back the company on the right track of growth momentum. Further, I will also figure out whether it is a right time to invest in the company or a wait and watch would be the optimal decision for any investment in the company.
A little introduction to TML
TML founded in 1945 was formerly known as TELCO (Tata Engineering and Locomotive Company) and is headquartered in Mumbai, India. The company along with other Tata group companies are facing growth issues quite long. Though with the acquisition of Jaguar Land Rover in 2008, Tata Motors has become a global auto manufacturer. Yet the performance in the domestic market is declining year after year. One reason that comes to mind at the outset is lack of stable leadership since 2009.
Also, lately, the business of Tata Motors has distracted from issues such as skidding sales, particularly in its domestic car business. It entered into passenger car segment in 1998. Other domestic segments like medium and heavy commercial vehicle, light vehicle segments and etc. are also suffering. Once they were the leader among the domestic manufacturers. Reasons include lack of market targeting products, unconventional dealership dealings, improper customer complaints handling, poor services and many more such issues.
Cyrus Mistry Role at Tata Motors Ltd
In 2012 Cyrus Mistry became the sixth chairman after Mr. Ratan Tata to the 145-year-old conglomerate. And in Feb 2014 he was appointed to look after operations at Tata Motors. Then the board had to select new managing director, due to the sudden demise of existing MD Mr. Slym. He was also to chair the new product design and engineering review meetings. Mr. Karl Slym was appointed in September 2012 as MD of TML. He died on 26th January 2014. Earlier to Slym, Carl-Peter Forster was Chief Executive Officer & Managing Director of TML.
Mistry appointed Guenter Butschek and gave him the freedom to overhaul managerial layers of TML. Though Mistry had taken a personal interest in the development of the new line of cars for the domestic market. And some of the new models for domestic market was conceptualized under him like Tigor, Tiago, and Hexa in passenger car segment. But was possible for the market only under new management only.
It is apparent now that during the time of acquisition, Jaguar Land Rover was in deep loss under Fords management. And has completely turnaround under the management of TML. But at the same time, TML domestic business had shown a reverse. JLR had a loss of 402.4 million pounds in the FY March 2009 but has a profit of 1.272 billion pounds in the year ending March 2017. During the same period, Tata Motors' domestic business swung from a profit of 10.01 billion rupees to a loss of 24.7 billion rupees. Now, JLR accounts almost 90% of TML's operating profit.
Mistry was removed by the TML board in 2016 on the grounds that Tata group lost confidence in him and his family and that his tenure was marked by repeated departures from the culture and ethos of the group.
Don't forget to do your own research on Tata Motors share price before carrying purchase decision.
Is newly acquired JLR business flourishing at the cost of parent Tata Motor Ltd business?
This is a very natural question that comes to the mind when we compare the sales figure of Tata Motors Ltd with that of Jaguar Land Rover (JLR). JLR global sales are constantly increasing since its acquisition in 2008. It rose almost 240% to 6.04 lac units in 2016-17. In the current financial till December 2017, already 2.87 lac units sold globally of all the models of JLR.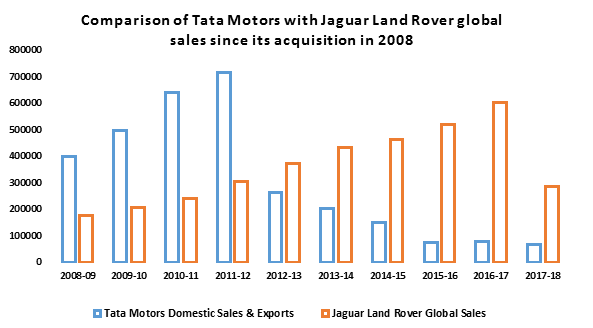 During the same period, Tata Motors Ltd domestic sales and export was declining sharply. However, even few years after acquiring JLR till FY 2011-12, the sales were found growing for Tata Motors as well. In between FY 2007-08 and FY 2011-12, TML sales grow by 78% to 7.14 lac units. While that of JLR by 72% to 3.05 lac units. But after that, the sales of Tata Motors declined by 89% to 0.79 lac units. And that of JLR grew by 71% to 6.04 lac units in between FY 2011-12 and FY 2016-17.
This raises an important question that why two different teams under the same management, same leader, same brand and same segment are behaving just opposite to each other? One is constantly rising and other constantly falling year after year. This is a serious issue from shareholder's point of view as well and needs serious scrutinizing of the facts.
What is the blog on Tata Motors Ltd all about?
In this blog, I will try to figure out the driving factors behind the failure of Tata Motors Ltd domestic business segment and success factors of JLR business. I am keeping Defense business segment of Tata Motors out of the scope of the present blog article. Also, I am writing the current blog from shareholder's point of view and can also interest to other stakeholders in the company as well.  The whole story of proceeding deep into the historical performance of both JLR and Tata Motors and their detailed analysis, let us have a look at the brief introduction and operational spread of the company.
A brief introduction to Tata Motors Ltd
Tata Motors Limited established in 1945 is in automobile sector engaged in the manufacture of automobile products consisting of commercial, military and passenger vehicles, including financing of the vehicles sold by the company. It is India's largest automobile company and is world's fourth largest bus manufacturer and fifth largest truck manufacturer.
Besides BSE and NSE it is also listed on the New York Stock Exchange (September 2004) and is as an international automobile company.
There are 26035 employees in Tata Motors and over 8 million Tata vehicles ply on Indian roads since the first rolled out in 1954. The company's dealership, sales, services and spare parts network comprise over 6,600 touch points, across the world.
It started to export since 1961. Currently, Tata Motors vehicles are marketed in Europe, Africa, the Middle East, South East Asia, South Asia, South America, CIS, and Russia. It has franchisee/joint venture assembly operations in Bangladesh, Ukraine, and Senegal.
The company pioneer in innovative products through leading edge R&D. It has over 4,500 engineers, scientists, and technicians at its Engineering Research Centre, established in 1966. Tata motors have R&D centers in Pune, Jamshedpur, Lucknow, Dharwad in India, and in South Korea, Italy, Spain, and the UK.

Operational Spread of Tata Motors Ltd  
Tata Motors has auto manufacturing plants is in Jamshedpur, Pantnagar, Lucknow, Sanand, Dharwad, and Pune in India. They also have plants in Argentina, South Africa, Great Britain and Thailand. It has vehicle assembly operations in India, Great Britain, South Korea, Thailand, Spain and South Africa. It plans to establish plants in Turkey, Indonesia, and Eastern Europe. Its research and development centers are located in Pune, Jamshedpur, Lucknow, and Dharwad in India. Globally they have R&D centers in South Korea, Great Britain, and Spain. The following timeline shows details of the acquisition of global brands and companies by Tata Motors Ltd. This makes it among true global auto manufacturer.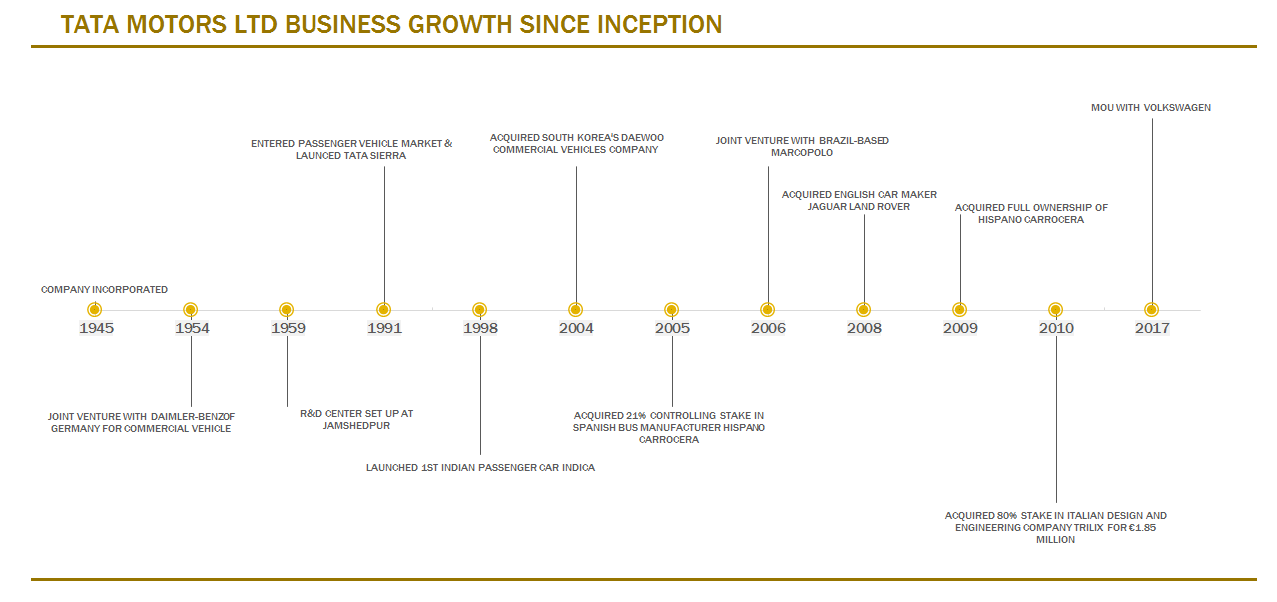 What is the exact sales position of Tata Motors in last one decade?
With over 10 acquisition since its inception in 1945, the company has grown into all segment of its business. It has also helped the company to expand its global footprint. The company was into commercial vehicle segment since the beginning and entered into passenger car segment in 1998. It was among pioneer in light, medium and heavy commercial vehicle and also in utility vehicle in India subcontinent.
However, since FY 2012-13 sales of all segment has seen a drastic fall. The drastic fall in production of Medium & Heavy Commercial Vehicle and Utility vehicle was more than that of light commercial vehicle and car segment. But after that financial year, all segment saw somewhat similar fall till FY 2016-17. The below four graphs shows the comparison of production and sales figure of each segment for last one decade.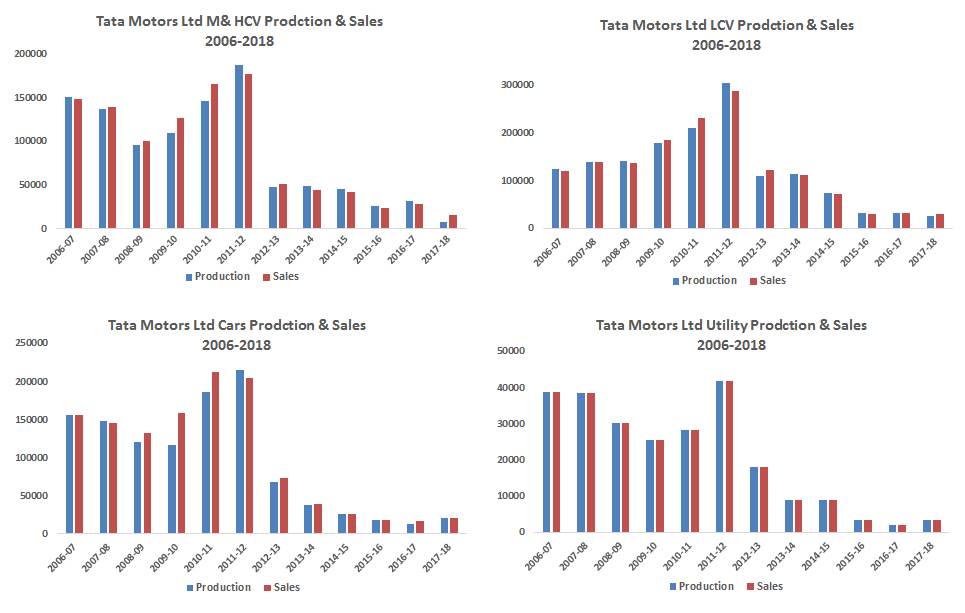 A similar situation was there for export. Earlier also export constitutes a very little to the overall sales. But from FY 2012-13 onward it shanks to their lowest. The below four graphs compare Tata motors Ltd overall segment wise sales with that of exports for last one decade. Cars and utility vehicle exports were least among others.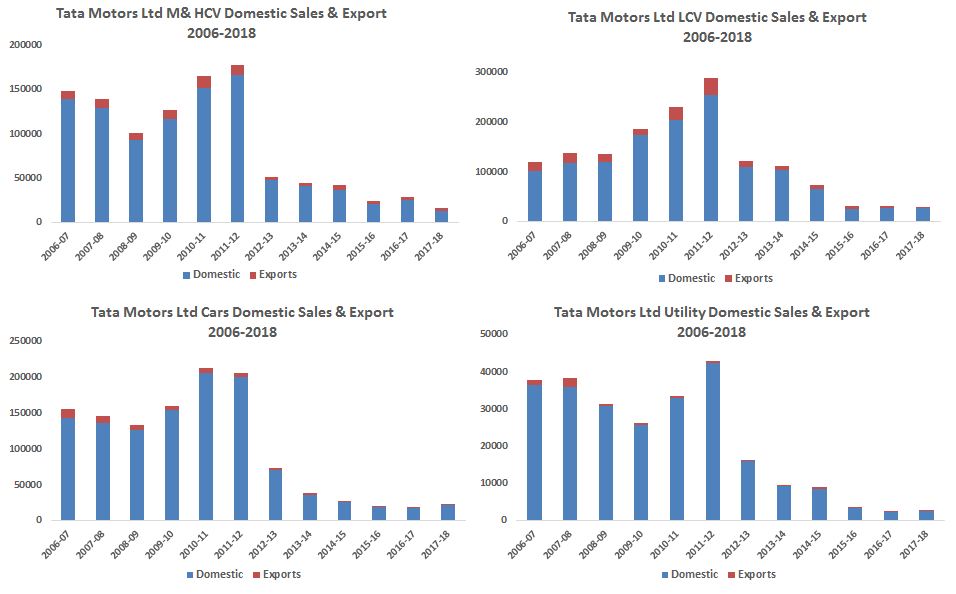 The contribution of Tata Motors Ltd in Indian automobile sector
I have compared and compiled Tata Motors Ltd total production, sales and export data from Tata Motors Ltd website. While for total automobile figures of India, I relied upon the website of Society of Indian Automobile Manufacturers (SIAM). I have clubbed the figures under Medium & Heavy Commercial Vehicle, Light Commercial Vehicle and Utility Vehicle under Commercial Vehicle while that of Cars figure under Passenger Vehicle.
India's total automobile production fall in FY 2012-13 and FY 2013-14 but thereafter picked up. During the same 6 years' duration, the Tata Motors Ltd share in overall India automobile production registered a continuous fall. In the FY 2011-12, it contributed almost 18.4% of total India's production which declined to 1.7% in 2016-17. During the same period, commercial vehicle production reduced from 57.5% to 8.1% and passenger vehicle from 6.9% to 0.3% respectively.
It is important to note at this point that passenger vehicle production was very low when compared to commercial vehicle segment. The production of passenger vehicle started from 1998 onward whereas commercial vehicle from the year 1955. Interestingly, JLR production rose from 3.05 lac units in FY 2011-12, 6.04 lac units, almost double, in FY 2016-17. During the same period Tata Motors Ltd production, the passenger vehicle segment declined from 2.15 Lac units to 0.12 Lac units.

In similar proportion, the overall share of Tata Motors Ltd sell also declined both in commercial and passenger vehicle segment. You can look at below table for details.

Around 50% of total commercial vehicle exports from India was by Tata Motors in FY 2011-12. It has come down to mealy 7.30% in FY 2016-17. And the overall contribution of Tata Motors in vehicle export sank below 1% in FY 2016-17.

What is the exact sales position of JLR since its acquisition by Tata Motors management?
Interestingly, on the one hand, Tata Motors Ltd domestic production, sales, and exports were declining year after year. And on the other hand, the newly purchased JLR business is suggesting a reverse story.  Since its acquisition, it has shown exponential growth across the globe both in units exported and actually sell. Data collected from JLR website gives the sense of robust growth which JLR has achieved so far.
Besides UK and Europe, Tata Motors through JLR has captured a good share in the passenger car segment in China, North American countries as well as other Asia Pacific countries. On one side Tata Motors Ltd domestic segment and its export are performing very badly. Contrarily JLR has shown robust growth under the same management.   Please refer to various graphs to get an insight of JLR growth story.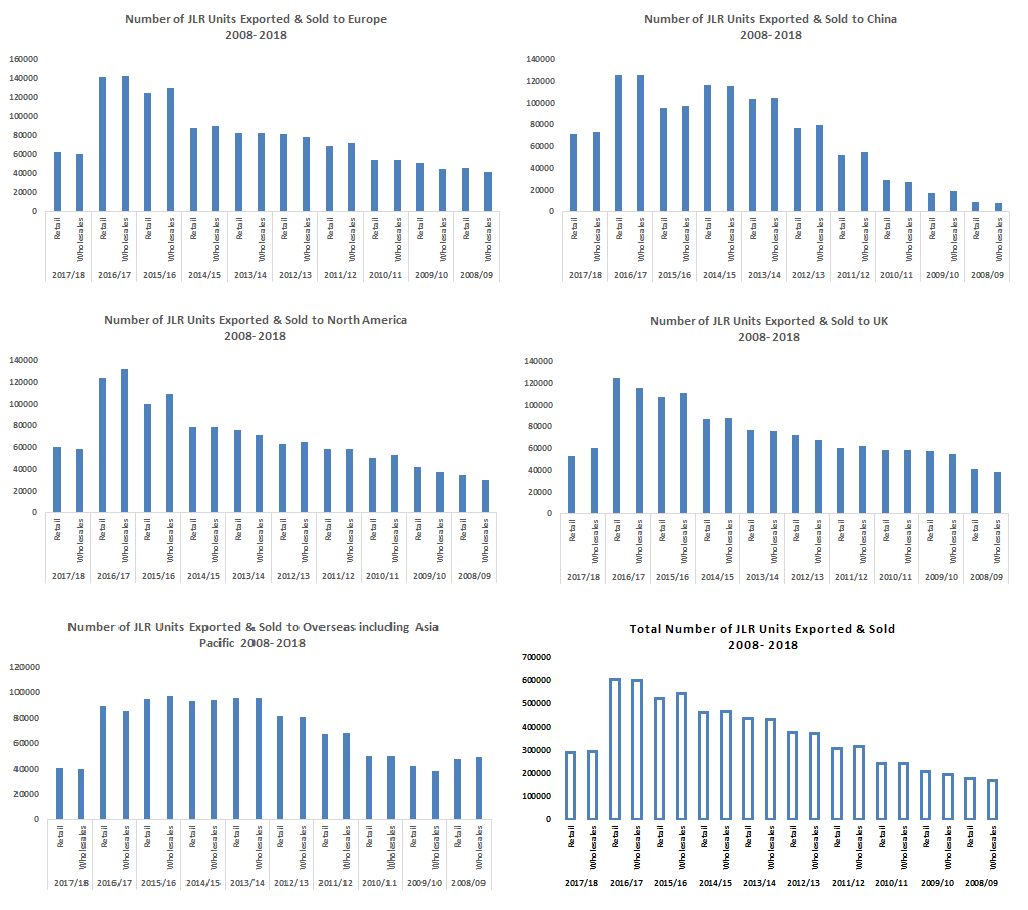 So far so good. Right. The comparison of TML with newly acquired JLR business gave a sense that nothing wrong with Tata Motors management. A sense of the wrong approach or no concrete approach might be the right hypothesis for the poor performing domestic segment. This is so because there was lack of strong leadership at TML domestic front. And management under Cyrus leadership also lacked the vision to make the domestic front perform.
About Author