Capital market structure of India is complex. Also, it makes up the significant part of a financial market. Let us look at the basic definition of the Capital Market. It is a place for long-term financial assets which have long or indefinite maturity. The capital market provides long-term debt and equity finance for the government and the corporate sector.
Further, Capital market divides into the Primary market and secondary market
Primary Market: Primary market is one type of capital market where various companies issues their shares and bonds first time to raise funds from the public, it is called Initial Public Offering (IPO).
Secondary Market: A secondary market is a form of capital market where issued securities are bought and sold.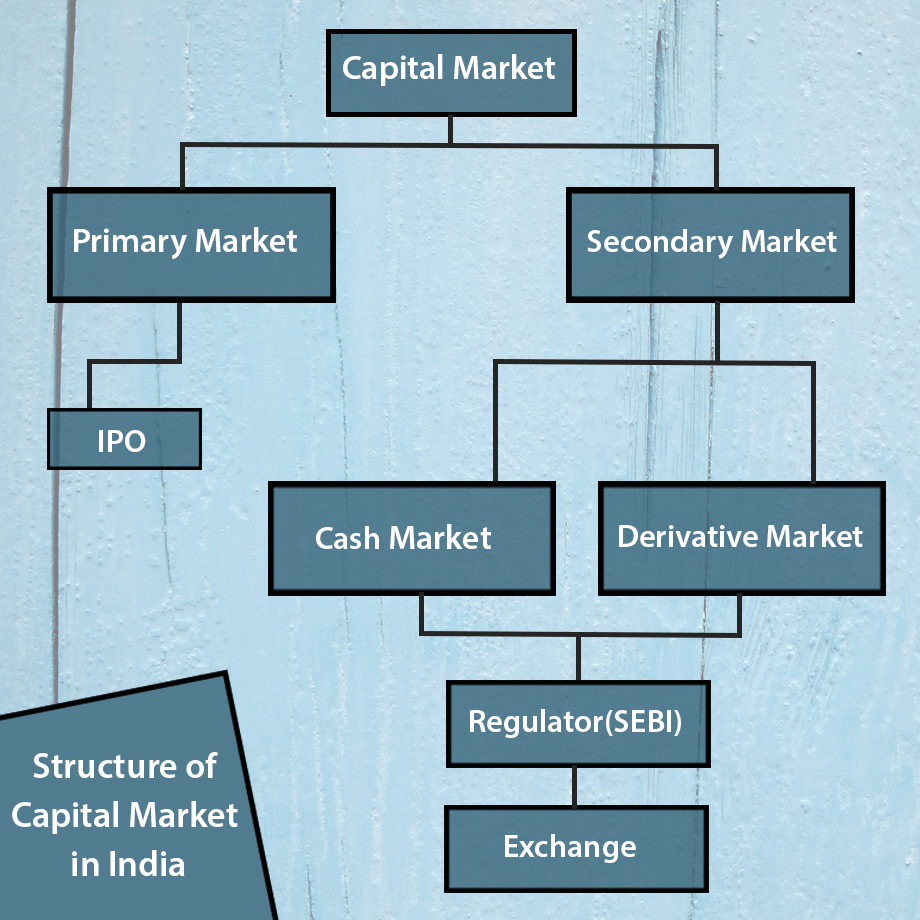 Secondary Market has got two wings namely Cash Market and Derivative Market.
Capital Market Regulator
SEBI (Securities and Exchange Board of India) is a regulator of Indian Capital Market. It was established in 1988. The basic function of SEBI is to protect the interest of investors.
SEBI is also the Regulator for Commodity Market. Prior to this Forward Market Commission (FMC) was the regulator of the commodity market.
Exchanges of Capital Market in India
Exchange provides an electronic and transparent platform to buy and sell the shares.  Stock exchange also provides the facility for issue and redemption of securities.
In India, there is two national Exchange of stock market. They are the NES and the BSE. Further, there are two national exchanges for commodity, MCX & NCDEX.
A Brief History of Indian Exchanges
The history of Exchanges of Indian Capital Market is way back to the 1800s. The following are the milestones in the Indian capital market
The 1800s
1854: Dalal Street got a permanent location.
1875: BSE has established as "The Native Shares and Stock Brokers Association"
The 1900s
1956: In 1956 BSE became the first stock exchange to be recognized under the Securities Contract Act.
1993: In 1993 NSE has recognized as a stock exchange.
The 2000s
2000: In the year 2000 internet trading has started at NSE.
2000: Derivative Trading (Index Futures) has started at NSE.
2001: Derivative Trading has started at BSE.
Indian Broker
The broker acts as a bridge between the exchange and traders (Buyers & Sellers). Moreover, any Indian can invest or trade in a stock market or commodity market. But for this, you have the open Demat account with a registered broker.
About Author