R R Kabel Limited IPO
About Company –
Founded in 1995, R R Kabel Limited specializes in the provision of consumer electrical products catering to residential, commercial, industrial, and infrastructure applications.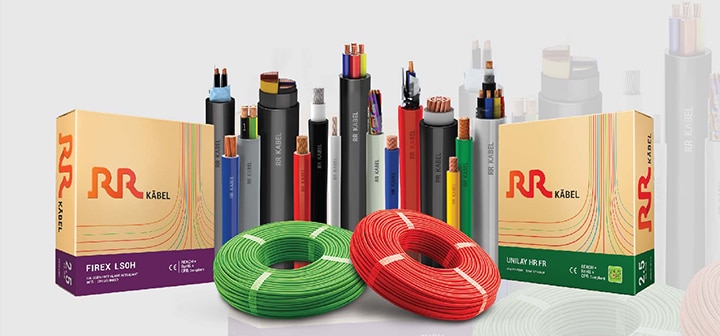 R R Kabel operates within two primary segments:
Wires and Cables: The category of Wires and Cables encompasses various products, including house wires, industrial wires, power cables, and specialized cables.
FMEG (Fans, Lighting, Switches, and Appliances): This segment encompasses fans, lighting solutions, switches, and various appliances.

The company is actively involved in the manufacturing, marketing, and sale of wire and cable products under the 'RR Kabel' brand, while fans and lights are marketed under the 'Luminous Fans and Lights' brand.
In 2020, R R Kabel made a strategic move by acquiring Arraystorm Lighting Private Limited, which included the light-emitting diode (LED) lights business and associated hardware. This expansion enabled them to broaden their product portfolio to serve office, industrial, and warehouse spaces. Subsequently, in 2022, the company further strengthened its position by acquiring the home electrical business (HEB) of Luminous Power Technologies Private Limited. As a component of this acquisition, R R Kabel obtained a restricted and exclusive license enabling the use of the Luminous Fans and Lights brand for fan and light products. Additionally, they acquired the rights to utilize 61 registered trademarks and a collection of premium lights and fans.
R R Kabel operates two manufacturing units situated in Waghodia, Gujarat, and Silvassa, Dadra and Nagar Haveli, and Daman and Diu, primarily engaged in wire and cable manufacturing as well as switches production. Additionally, the company owns and operates three integrated manufacturing facilities located in Roorkee, Uttarakhand; Bengaluru, Karnataka; and Gagret, Himachal Pradesh, where manufacturing operations for FMEG products are carried out.
R R Kabel's clientele spans both domestic and international markets. For the three months ending June 30, 2023, the wires and cables segment accounted for 71% of revenue from operations, while the FMEG segment contributed 97% of the revenue, primarily from the B2C channel.

R R Kabel Limited IPO Objective
The utilization of funds includes the repayment or partial prepayment of borrowings acquired by the company from banks and financial institutions.
For general corporate purposes.
R R Kabel Limited IPO Details
Open and Close Date of R R Kabel IPO
The subscription for the IPO will be open from September 13th and will close on September 15th.
| | |
| --- | --- |
| IPO Open Date | Wednesday, September 13, 2023 |
| IPO Close Date | Friday, September 15, 2023 |
Open and Close Dates of R R Kabel Limited IPO
R R Kabel Limited IPO share price
The price band for the R R Kabel IPO has been set at ₹983 to ₹1035 per share.
| | |
| --- | --- |
| IPO Price | ₹983 to ₹1035 per share |
R R Kabel Limited IPO share price
R R Kabel IPO Issue Type, Face Value, IPO Price, Market Lot, Listing, Total Issue Size
| | |
| --- | --- |
| Issue Type | Book Built Issue IPO |
| Face Value | ₹5 per share |
| Market Lot | 14 Shares |
| Listing At | BSE, NSE |
| Total Issue Size | (aggregating up to ₹1,964.01 Cr) |
R R Kabel Limited IPO Issue Type, Face Value, IPO Price, Market Lot, Listing, Total Issue Size


R R Kabel Limited IPO Promoter Holding
The promoters of the company include Tribhuvanprasad Rameshwarlal Kabra, Shreegopal Rameshwarlal Kabra, Mahendrakumar Rameshwarlal Kabra, Kirtidevi Shreegopal Kabra, Tribhuvanprasad Kabra HUF, Kabra Shreegopal Rameshwarlal HUF, and Mahendra Kumar Kabra HUF.
| | |
| --- | --- |
| Pre Issue Share Holding | 66.42% |
| Post Issue Share Holding | 62.77% |
R R Kabel Limited IPO Promoter Holding
R R Kabel Limited' Financial Information (Reiterated)
| | | | | |
| --- | --- | --- | --- | --- |
| Period Ended | 31 Mar 2020 | 31 Mar 2021 | 31 Mar 2022 | 31 Mar 2023 |
| Assets | 1,545.36 | 1,715.11 | 2,050.64 | 2,633.62 |
| Revenue | 2,505.54 | 2,745.94 | 4,432.22 | 5,633.64 |
| Profit After Tax | 122.40 | 135.40 | 213.94 | 189.87 |
| Net Worth | 875.07 | 1,033.38 | 1,237.05 | 1,390.47 |
| Reserves and Surplus | 459.23 | 594.93 | 781.31 | 914.15 |
| Total Borrowing | 395.29 | 498.71 | 521.11 | 515.84 |
R R Kabel Limited' Financial Information (Reiterated) (Amount in ₹ Crore)


R R Kabel IPO Registrar
Link Intime India Private Ltd
Phone: +91-22-4918 6270
Email: rkabel.ipo@linkintime.co.in
Website: https://linkintime.co.in/mipo/ipoallotment.html
R R Kabel IPO Lead Managers
Axis Capital Limited
Citigroup Global Markets India Private Limited
Hsbc Securities & Capital Markets Pvt Ltd
Jm Financial Limited
Contact Information
R R Kabel Limited
Ram Ratna House, Victoria Mill Compound,
Pandurang Budhkar Marg, Worli,
Mumbai 400 013
Phone: +91 22 2494 9009
Email: investorrelations.rrkl @rrglobal.com
Website: https://www.rrkabel.com/
R R Kabel IPO Prospectus

---
About Author