To open demat account in India needs lots of steps to follow and that too very strictly. The popular name of the dematerialization of securities in India is Demat or Dmat. It is a facility for keeping all your financial assets into electronic form. The present blog is for those who are beginning or even planning to enter the stock market in India.  "How can I open a demat account?", "How to open demat account in India?", "What is the procedure to open a demat account?" such questions cross the mind of everyone who is willing to enter the world of stocks market in India. 
How to open a demat account for an individual?
An important step in understanding the dematerialization of securities is how to open the demat. Dmat opening involves some basic steps. Furthermore, if all your documents are in place then the opening of your demat account will take a couple of days. Below are some important measures that you require to remember while opening a demat account.
Step 1 – Identify and select your DP to open a demat account
DP stands for depository participants of India. In India DP's is the agent of a depository. Two depositories are working in India, viz., NSDL (National Securities Depository Limited) and CDSL (Central Depository Services Limited).  These depositories are institutions to hold your securities in de-mat format. While the depository participants are intermediaries that links depositories with an investor. A DP needs to register under Section 12 (subsection 1A) of the SEBI Actin order to offer depository-related services. Most of the stockbrokers in India have depository participation license. You will need to open your de-mat account only with any of such DP's and nor directly with the depositories. 
Now, it is completely your choice to select a DP based on the features they offer. Features like demat charges, nearness to your location and etc. Keep in mind that in general the broker which you choose will open your trading-cum de-mat account. It is always better that you have your trading account and demat account with the same broker. This facilitates all demat process quick and easy like issuance of DIS (debit instruction slips)in case you need to sell your holdings. However, you have the option to choose a different DP and a trading broker. 
Step 2 – You will require specific documentation and procedure to open a demat account
You will require mainly four documents for opening a demat account. You will require proof of identity and proof of residence. Besides it, your Income Tax PAN card and Aadhar Card is a mandatory document nowadays for opening a demat account.
Depository participants who are mainly your stock brokers accept a variety of documents in lieu of identity proof and proof of residence. Passport, Aadhar card, elector voting card, pension card, etc. can act as your identity proof. For address, you may present an updated passport, current landline telephone bill, property tax assessment, income tax assessment, credit card bill, electricity bill, etc.
One thing you need to remember is that all documents must be a self-attested photocopy. 
Step 3 – You need to sign the DP agreement 
Along with the documents you will also require to submit the DP agreement. You need to sign each page od this DP agreement. A DP agreement is in between you and your depository participant. 
Please keep in mind that each DP has its own agreement. The SEBI sets guidelines for such agreements. It contains a long list of rights and obligations for the demat account holder. It is always wise to read the fine print in detail as the devil lies in the details.
These agreements also contain a schedule for charges. You must go over it in detail. If you don't understand any point, don't forget to discuss it with your brokers' representatives for clarification before signing and submitting. 
Make sure to obtain a copy of the agreement and an updated schedule of charges for later reference. You must get yourself acquainted with the demat account opening and demat charges before signing any agreement.
Step 4 – Don't forget to fill nomination along with demat account opening form
Not only with your demat account, but also with all your assets especially financial assets you must fill nomination form. Be it your insurance policy, bank account, your fixed deposit or any other asset which is financial in nature, the nomination must be there. Nomination smoothens the means of delivery of your securities to the beneficiaries, upon your demise.
Sometimes back when there was no demat account available for physical shares, one needs to avail nomination individually for each company you own shares or debentures. However, when you do nomination for your demat account, all your investments in that account automatically come under that nomination.
Step 5 – Setting up of the demat account with your DP
While submitting the documents you will also require to submit an agreement between you and your DP. You also need to sign every page of this agreement. After submission, your DP will verify the documents. Then it will go to its compliance department for the compliance related approval. Only after the approval made by the compliance your account open.
After the opening of your account, the DP will grant you a code. This code we call as Beneficial Ownership Identification Number or in short "BO-ID". This BO-ID becomes the part of your account number. The DP account number for an individual account is a union of DP id and BO-ID. 
If you purchase any financial securities, your this account with the depository participant will be credited. Similarly when you sell your holdings in any of financial securities then it will get debited from your demat account. And the money thus raised through sell will be collected by your depository. On your instruction, your depository will credit this amount to your bank account. You must know all about the demat charges before signing and setting up a demat account with your DP.
Step 6 – Signing a power of attorney with your depository participant
For a day trader, the signing up of power of attorney is somewhat mandatory. However, for an investor, this authorization is not needed. DIS serves the same purpose as that for POA. We call Power of Attorney as POA in stock market parlance while DIS stands for debit instruction slip.
Before selling a security from your demat you need to give instruction to your stock broker for the same. DIS is the standard format where you put all information about the sell execution of that security. You need to submit this DIS on the same day of selling your security else it will go to auction. For a trader who trades daily, this is a big hassle. 
To overcome this broker always ask you to sign a Power of Attorney during the time of opening the demat account. This empowers your broker to automatically debit your account when you sell securities.
However, some broker misuses it as well. To recover some charges they can sell from your demat account after sending you an email regarding charges overdue. So to avoid such mishaps you need not have to sign this POA during applying for Demat account opening.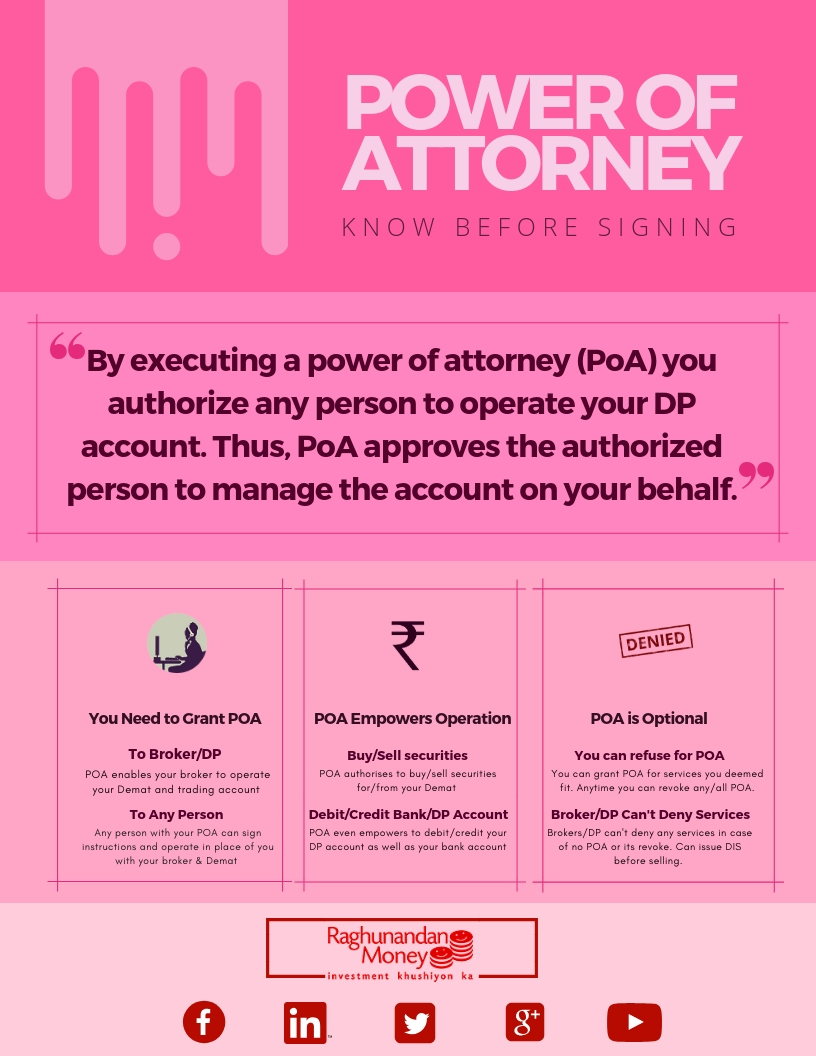 Step 7 – Digital online demat account opening using aadhaar
Last but not least, you can also open an online demat account with depository participants. Raghunandan Money along with other depository participants facilitates the online demat account opening. Let us also learn how to open a demat account online.
You can open a demat account using your Aadhaar Card authentication. For this, your aadhaar card must be mapped with your bank account. The mobile number must be the same for your aadhaar card and in your demat account opening form. 
The authorization and all your verification are done via OTP sent to your mobile by the depository participants. Your demat account opening is done through Aadhaar authentication. The only other document you need to submit with your broker is a scanned copy of your PAN card and a canceled cheque uploaded online.
At last, there is a second level of verification. Second level verification is done either through video conferencing or through an in-person-verification (IVP) at the nearest customer point of the DP you choose.
About Author