Investors have many routes to invest their money in the market, such as mutual funds, provident funds, real estate, and many more. As per the modern trend, the most appealing and attractive area of investment is the stock market.
Many investors want to make money from stocks, regardless of the level of experience, as it has the potential for high returns. So, it is easy to fall for the lure, but one needs to have a good strategy to protect one's money and fetch returns. Investing money in the stock market is not a piece of cake. It demands some personal traits, namely, passion, discipline, and patience. An investor should have a sound understanding of the market and the capability to research stocks. Before investing, always remember that it is your hard-earned money and belongs to you. Hence, the responsibility of securely investing the money is yours and not somebody else's.
The stock market is affected by so many factors that make it impossible to predict how it will behave, and whether the stock price will go up or go down. If you are not careful, the alluring charm of the stock market can result in heavy losses. However, a proper strategy of investing in the market can work wonders for an investor.
Thus, it becomes essential to keep in mind some ideal rules when it comes to investing in the stock market.
The long term investment is always favourable in the stock market:
Always think from a long-term perspective while investing in the stock market. Many people enter the market when it is down and exit it when it is high. Why do they follow this formula? Very simple!! To make some quick profit.
This short term approach is not as easy to implement as it seems to be. This is because it is impossible to predict when the stock price will increase. There is a possibility that a particular stock may increase further, even after one has sold it. So, an investor is losing out on further profits because he/she sold out the stock prematurely. Rather than thinking of the stock market as a short term money-making tool, think of it as a long-term investment option. Buy stocks keeping long-term returns in mind because stock market investments perform significantly better than other assets in the long run.
Are you done with your homework??
Invest some time and effort to understand how the stock market works before investing your money. Learn about economic trends and do some research on the company's past performance as well as future potential. Investing blindly in the stock market is of no value as it can result generate losses rather than generating returns/profits.
"Investors should purchase stocks like they purchase groceries, not like they purchase perfume."
–Ben Graham
Always monitor your investments in the Stock Market:
Investing once and forgetting about your investment is not going to work for you. Since the stock market is highly volatile, stock prices keep changing along with the changes in the company itself. Other factors like the performance of the company, any political or global change, and rules and regulations from the government too have an impact on the performance of a stock. Therefore, you should always monitor your investment portfolio to know in time whether you should let go of some stocks that you feel aren't doing well or keep on holding them.
No loans, only surplus leads to all-time security
One should always keep in mind that never borrow money to invest. You may face hard times when it comes to repaying the loan. Investing your surplus money is a reliable option for surviving in the stock market. Hence, it is always advisable not to create further debt in the wake of earning profits from stock market investments.
Diversifying your portfolio
If you invest in just one company or one sector, imagine what will happen to your investment if the company fails to perform well? Your investment could depreciate.
Therefore, it is advisable to invest in a diversified portfolio to balance out your investments.
In this way, you can counter the volatility of the stock market and reduce the risk of losing.
Buy and sell at the right price at the Stock market:
If you are not comfortable buying stock at higher prices, skip them. Wait for something better to come your way. Also, whenever you feel it's the right time to get good returns, sell those stocks you have been holding. It might be healthier to wait for the price to increase some more. This may assist you in making quick decisions when it involves buying or selling shares.
Understand business models of companies that you invest in stock market:
The businesses with sound strategies and clear projections are likely to be financially stronger in the long run. Therefore, making investments in those businesses is certainly commendable. Always undertake a thorough study of the company you wish to invest in. Analyze its profit statements, past performance, future strategies, and the trend of the industry to which that company belongs before you pool in your money in its stocks.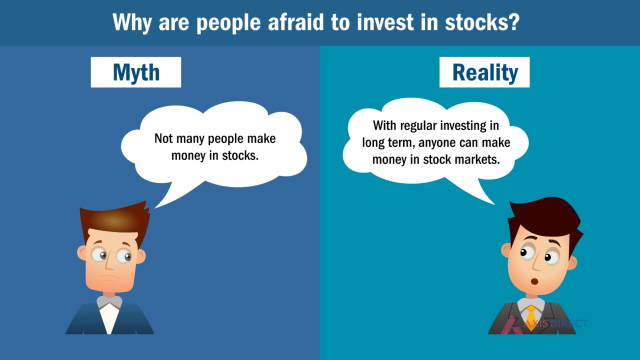 Small yet regular investments in stock market:
It is better to invest small sums at regular intervals rather than investing a large sum in one go. Smaller amounts will also allow you to be flexible with your investments.
In a nutshell, we can say that once you understand the basic rules of investing in stock market, you can exercise greater control over it. Yet another vital part of the stock market investments is discipline. Unsystematic investing without the backup of research has resulted in the downfall of many investors. By performing the greatest patience, consistency, and discipline, you can win the rewards.
About Author