What is Investment?
The money we earn or our monthly income is partly spent on our monthly expenditure and rest is saved for meeting future expenses. Instead of keeping the savings idle one should invest his or her savings to beat the inflation and to earn good returns in future. This is known as investment.
Why does one make the investment?
One should invest for following reasons
To grow money.
To save for retirement.
To attain the financial goals.
To meet the requirement for uncertain future.
To meet the cost of inflation.
These are the basic reasons that every one of us should invest.
An Introduction to Financial Market:
What is Financial Market?
A financial market is a place where individuals and parties can buy or sell financial instruments like financial securities, such as stocks & bonds, commodities such as precious metal or agricultural goods.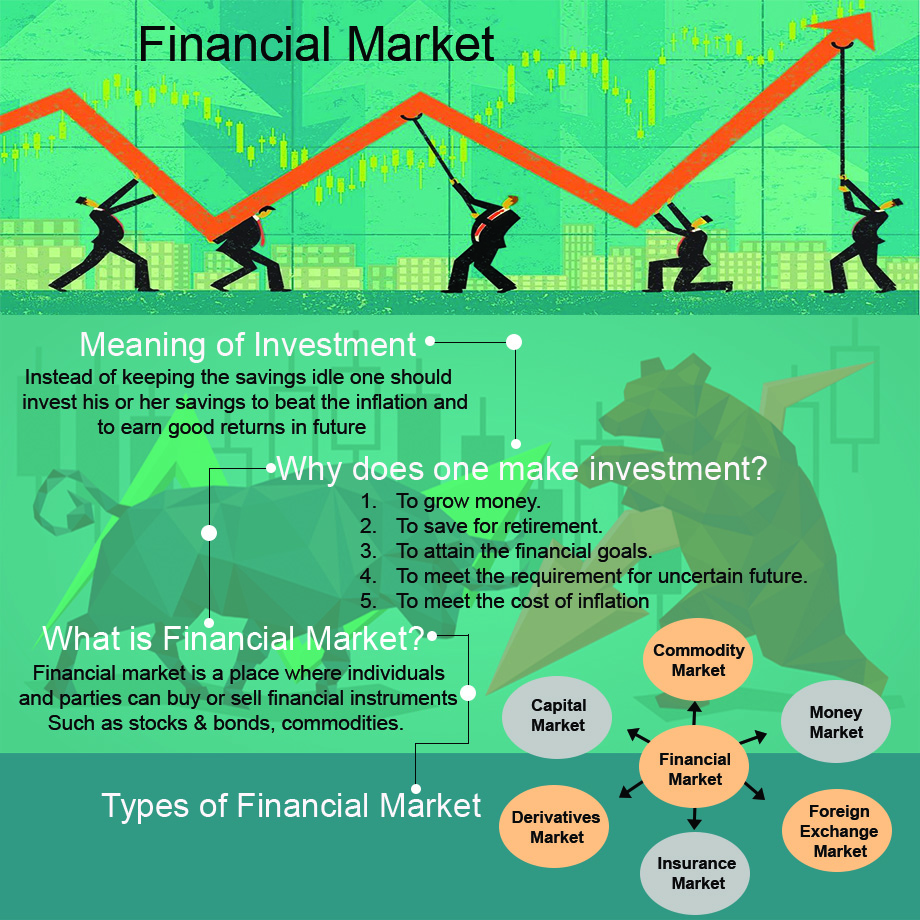 Capital Market:
Capital Market is a market where buyers and sellers participate to trade in financial securities like equity, bonds etc. A capital market is a medium to channelize the surplus funds from savers to institutions which in turn invest this fund into productive use.
Capital market further divided into Primary Market and Secondary Market.
Primary Market: Primary market is one type of capital market where various companies issues their shares and bonds first time to raise funds from the public, it is called Initial Public Offering (IPO).
Secondary Market: A secondary market is a form of capital market where issued securities are bought and sold.
2. Commodity Market:
A commodity market is a place which facilitates a trading platform to trade in various commodities. It can be a spot or derivative market.
In the spot market, commodities are bought and sold for immediate delivery, and in the derivatives market, various financial instruments are traded based on commodities are traded in the spot market.
3. Money Market:
The money market is the part of the financial market which deals in the borrowing and lending of short term loans generally for a period of less than or equal to 365 days. it is a mechanism to clear a short term monetary transactions.
4. Foreign Exchange Market
It is a global operating market, which deals in the sale and purchase of foreign currencies. It has no physical location and it operates 24 hours a day and seven days a week. It sets the exchange rates for currencies.
This global market has two tiers. The first is the interbank market, where the biggest banks exchange currencies with each other.
And the second tier is the OTC (Over the Counter) market, where individuals trade.
5. Insurance Market:
An insurance market is a place where individuals and groups buy and sell insurance. Customers and groups buy insurance for risk management for specific risk.
6. Derivative market:
The Derivative Market is a form of financial market where derivative instruments are traded like future contracts and options. These are derived from other forms of assets.
Derivative market is further divided into two parts that is exchange traded derivatives and over-the-counter derivatives.
About Author