In a demat account, you not only hold equities but also hold other financial securities. Other securities include mutual fund scheme units, government bonds, debentures, nationals savings certificate, and insurance policies. In sometimes from now you will get a copy of your educational qualification as well in demat form. The organizations that manage your demat account do it for a fee which we call as demat charges. In India, the NSDL and the CDSL are the organizations to hold demat accounts.
The demat account is, in fact, a repository of all your shares and other securities particularly financial in nature securities. All of us hold our money in bank account electronically. In a similar way, we hold shares in our demat account in electronic form.
Now begin with any of the stock market pages of any newspaper. There for sure, you will find numerous advertisements for free demat accounts by stocks broking houses. So the questions are that – "Are demat accounts actually free?" Or is there charges for the demat account as well?
There are opening charges for a demat account with any DP
As of August 2018, around 623 depository participants are active in India. These depository participants or DP's are ether banks or stocks brokers. Most of such DP's begun allowing for zero account opening charges. However, you should not mistake it as demat account for free forever. The zero charge applies only to the opening of the account.
Most of the banks those offer DP services, grant free demat account opening along with saving accounts. Actually, they attach the demat account with the savings account. Besides banks, the full-service brokers are either allowing demat account opening free or at comparatively pretty very low cost.
There is a new breed of intermediary in broking arena, in these recent years. They are discount brokers. These discount brokers in general charges for a fixed fee for opening and maintaining a demat account with them.
Along with demat opening charges, some DP's charges separately towards the stamp paper. In the case of Power of Attorney (POA) execution, you will need stamp paper. The actual cost towards the stamp paper you need to pay.
You need to pay annual maintenance charge as demat
charges
Besides the demat account opening charges, there is an annual maintenance charge (AMC) as well. AMC typically ranges in between INR 300 to INR 800 per annum. Some brokers do not charge the AMC for the first year and initiate billing from the second year onwards.
In India, the DP's under Banks normally have differential rates of AMC. In general, the charge is lower when there is a mapping of the trading account with the same bank savings account. However, in a case when the mapping is with other bank's savings account they charge higher.
In what circumstances AMC charges waived?
As per the SEBI, there is a Basic Demat Account (BDA). In the case of the BDA, only the annual maintenance charge (AMC) is waived off. The BDA has custody value of less than INR 200,000. Usually, DPs waive off the AMC if the custody value is less than INR 50,000. In such BDA above INR 50,000 custody value, they charge nominal AMC.
Transaction and custodial fees in the demat charges
There is a custody fee that the 2 depositories, viz. NSDL and CDSL impose on a per ISIN basis. However, since the company pays the custody fee directly to the depository, hence these charges are normally not applicable at investors end.
Then there is a per-transaction fee as well. You need to pay this fee each time financial securities comes in or goes out from your demat account. Usually, when you buy shares your demat account gets credited. Similarly, when you sell shares your demat account goes debited.
Please, note that earlier most of the DPs did charge the clients for both credits and debits to their demat account. But nowadays utmost DPs only charge for the debits to your demat accounts.
Some other additional charges relating to demat account
Most of the DP's charge the transaction fee and the AMC to your demat account at regular intervals. Transaction fees they charge post every transaction while AMC on the quarterly basis.
However, this is not all the charges. Besides, the DP may ask you to pay some additional fees depending on the nature of the services you ask for. For instance, using DP facility online attracts no charge. But, instead of on using the Debit Instruction Slip (DIS) facility some DPs do impose some additional administrative charge.
Additionally, there are instances when the debit instruction fails or get rejected for technical reasons. On the occurrence of such events, your DP imposes a small amount as penalty.
Apart from these, your DP may also charge you in case of dematerialization of physical shares or rematerialization of demat shares back to physical form.
Thus, in order to experience the very concept of demat charges, you will need to capture a holistic view of all the above costs. Furthermore before opening a demat account with any of the DP's you need to get all these details.
(CLICK THE IMAGE TO ENLARGE)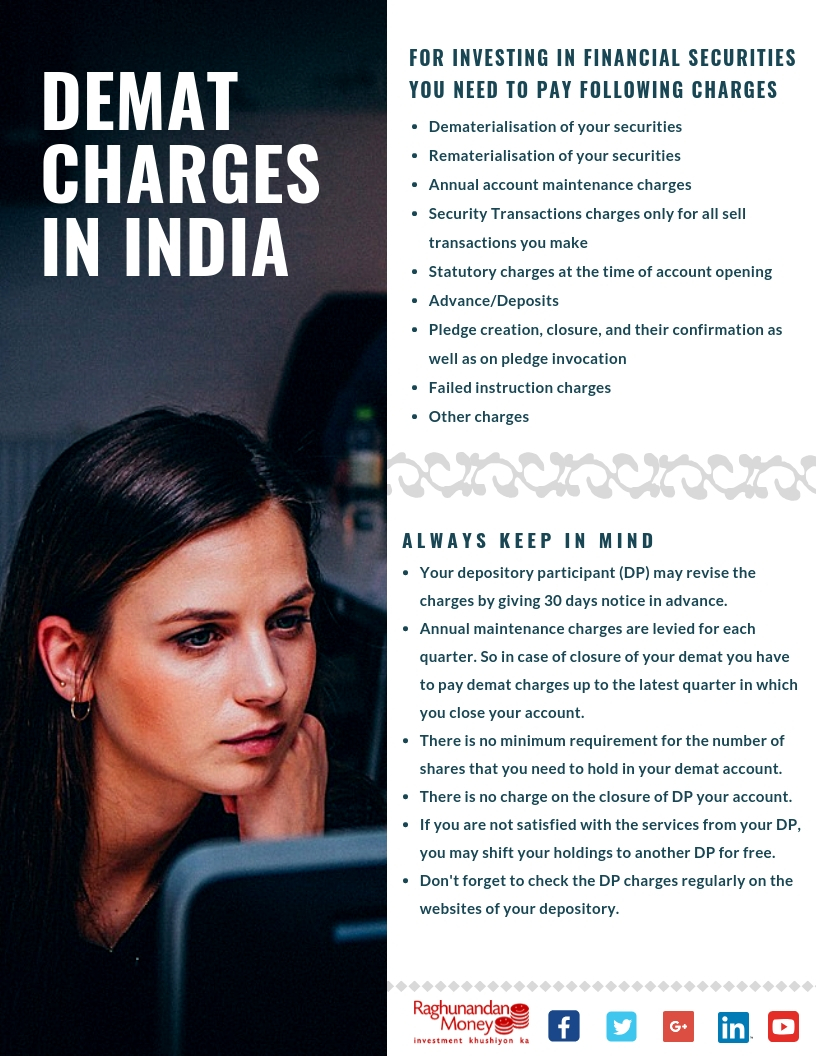 In order to get a comparative picture of demat charges that depository participants across India charge from the retail investor, I am sharing an excel that contains all demat charges pertaining to demat. have a look and compare them before choosing one for you.
You can download the demat charges excel from here –
Happy investing!!!
About Author