Pyramid Technoplast Limited IPO (About Company)
Pyramid Technoplast Limited, founded in 1997, holds a significant position as a producer of molded products made from polymers, with a primary focus on polymer drums. These drums serve a wide range of uses in packaging for industries such as chemicals, agrochemicals, specialty chemicals, and pharmaceuticals.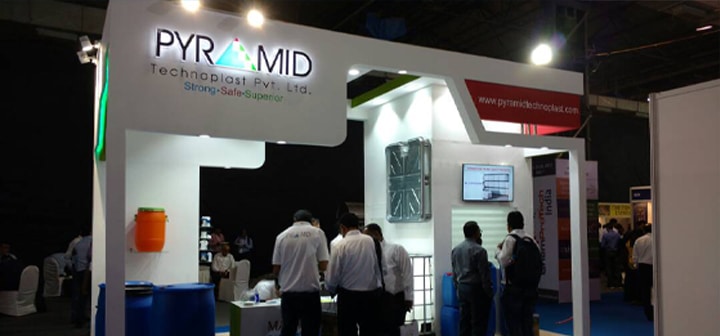 The company's offerings include polymer-based drums for bulk packaging, Intermediate Bulk Containers (IBC), and MS Drums. These containers play a crucial role in the safe packaging and conveyance of chemicals, agrochemicals, and specialty chemicals.
Commencing its commercial operations in 1998, Pyramid Technoplast operates from six manufacturing units. Notably, four units are strategically located in Bharuch, GIDC, Gujarat, while the remaining two are positioned in Silvassa, UT of Dadra and Nagar Haveli. These facilities boast a collective installed capacity of 20,612 MTPA for Polymer Drum manufacturing, 12,820 MTPA for IBC production, and 6,200 MTPA for MS Drums. Moreover, the company is actively constructing its seventh manufacturing unit, slated for Bharuch, GIDC, Gujarat.
An important testament to the company's dedication to safety is its attainment of UN certification, aligning with the United Nations Recommendation for IBC and MS Drums. Furthermore, Pyramid Technoplast's manufacturing units are proudly certified under ISO 9001:2015, ISO 14001:2015, and ISO 45001:2018. These certifications encompass quality, environmental, health, and safety management systems, validating the company's proficiency in producing Polymer Drums, carboys, jerry cans, IBC & MS Drums, and related accessories. Complementing this achievement, the company's MS Drums conform to the high-quality standards established by IS 1783:2014 (Part 1 and 2) as stipulated by the Bureau of Indian Standards.
IPO Objectives
Repaying/Prepaying part/all outstanding borrowings.
Funding working capital requirements of the company.
General corporate purposes.
Pyramid Technoplast IPO Details
| | |
| --- | --- |
| IPO Opening Date | August 18, 2023 |
| IPO Closing Date | August 22, 2023 |
| Issue Type | Book Built Issue IPO |
| Face Value | ₹10 per share |
| IPO Price | ₹151 to ₹166 per share |
| Market Lot | 90 Shares |
| Listing At | BSE, NSE |
| Total Issue Size | (aggregating up to 153.05 Cr) |
IPO Details
IPO Promoter Holding
The company's promoters include Bijaykumar Agarwal, Jaiprakash Agarwal, Pushpa Devi Agarwal, Madhu Agarwal, Yash Synthetics Private Limited, and Credence Financial Consultancy LLP.
| | |
| --- | --- |
| Pre Issue Share Holding | 100.00% |
| Post Issue Share Holding | 74.94% |
Pyramid Technoplast IPO Promoter Holding
Company Financial Information (Reiterated)
| | | | |
| --- | --- | --- | --- |
| Period Ended | 31 Mar 2021 | 31 Mar 2022 | 31 Mar 2023 |
| Assets | 153.46 crore | 183.76 crore | 225.78 crore |
| Revenue | 316.18 crore | 402.64 crore | 482.03 crore |
| Profit After Tax | 16.99 crore | 26.15 crore | 31.76 crore |
| Net Worth | 48.85 crore | 75.20 crore | 107.25 crore |
| Reserves and Surplus | 44.94 crore | 71.29 crore | 75.97 crore |
| Total Borrowing | 51.30 crore | 64.77 crore | 55.34 crore |
Financial Information
IPO Registrar
Bigshare Services Pvt Ltd
Phone: +91-22-6263 8200
Email: ipo@bigshareonline.com
Website: https://ipo.bigshareonline.com/ipo_status.html
Lead Managers
Pnb Investment Services Ltd
First Overseas Capital Limited
Contact Information
Pyramid Technoplast Limited
Office No.2, 2nd Floor, Shah Trade Centre,
Rani Sati Marg, Near W.E Highway,
Malad (East), Mumbai – 400 097
Phone: +91 22 4276 1547
Email: cs@pyramidtechnoplast.com
Website: https://pyramidtechnoplast.com/
Pyramid Technoplast IPO Prospectus
Vishnu Prakash R Punglia Limited IPO (VPRP IPO)
About Author